All though most people may know how to set this up I wanted to post this for those that may not know how.
Option 156
is a DHCP option that is responsible for handing out critical information to phones thru DHCP. This DHCP option is not built into windows within the predefined options and therefore must be created and configured for your use.
The below information will apply to you if you have a windows server with an active DHCP role
To set up DHCP option 156 for ShoreTel telephones:
Step 1 Open DHCP Manager on your Microsoft DHCP server.
Step 2 Right-click the DHCP server, and select Set pre-defined options.
NOTE If your organization is separated into separate subnets, make sure to select the proper subnet. For example, if you have a global organization and would like to configure the DHCP server to deliver the Spanish tones and cadences only to theIP phones in your office in Spain, you should make sure to select that particular subnet of users. If you do not specify the subnet, then all phones that boot from this DHCP server will receive Spanish tones and cadences.
Step 3 Click Add.
Step 4 Set Name to IP Phone Boot Server.
Step 5 Set Data Type to String.
Step 6 Set Code to 156 and add a description, if desired.
Step 7 Navigate to the scope options and add option 156.
Step 8 Set the value of option 156 to: configservers=ip_address, ftpservers=ip_address, country=n, language=n, layer2tagging=n, vlanid=n
Here is an example if you server ip was 192.168.1.50
configservers=192.168.1.50, ftpservers=192.168.1.50, country=n, language=n, layer2tagging=n, vlanid=n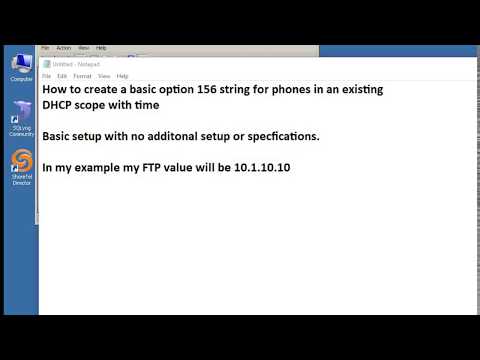 The most basic value needed for Option 156:
ShoreTel Onsite: configservers=192.168.1.50,ftpservers=192.168.1.50
Shoretel Sky/Cloud: configservers=192.168.1.50